Flower Drops
Ephemeral essence of fresh flowers.
Fresh flowers are gathered at peak aroma & cold-processed to make an extract that captures their true, vibrational nature. This is sweet intoxication ︎ A daily flower bomb ︎
Romantic to the core ︎ Sweet flavors for internal & external routines. ︎ Easy, organic, plant-based additions for Summer Cocktails & Mocktails. If you have ever wanted to drink petals, try these
Flower Drops.
Uses
Internal
Take for a mood booster, uplifter, when you need flower energy right now.
Succulent & juicy! A sweet (
literally
) & non-alcoholic way to enjoy Nature.
To be dropped directly into mouth if it's your bottle
External
Add a drop to your daily skincare routine.
All of these are really lovely in a dollop of morning moisturizer or night cream when you want
to boost it with
Rose
(
astringent, cooling, soothing
),
Yarrow
(
circulating, stimulating, antimicrobial)
&
Lavender
(
calming, redness & burn banishing
),
Jasmine
(
neutral, antimicrobial, digestive aid),
Lilac
(antioxidant, anti-inflammatory),
Apple Blossom
& (rejuvenating
).
That Moisture Boost
Made with a local humectant, Flower Drops help to draw water & hold it in your skin.
Flower Drops boost the moisturizing properties of the skincare you're already putting on.
They are great in tandem with our
Hydrosols,
too. Enjoy!


NEROLI
This one always just hits.
Neroli Flower Drop
is the one we pick to show what a Flower Drop is. It's attentive, prismatic, super deep. Bold. Flirty. Effervescent. We
may
have made a Sicilianesque aphrodisiac with a flavor profile in & of itself. Get your orange blossom on.
Ingredients
Organic flax glycerin,
fresh orange blossoms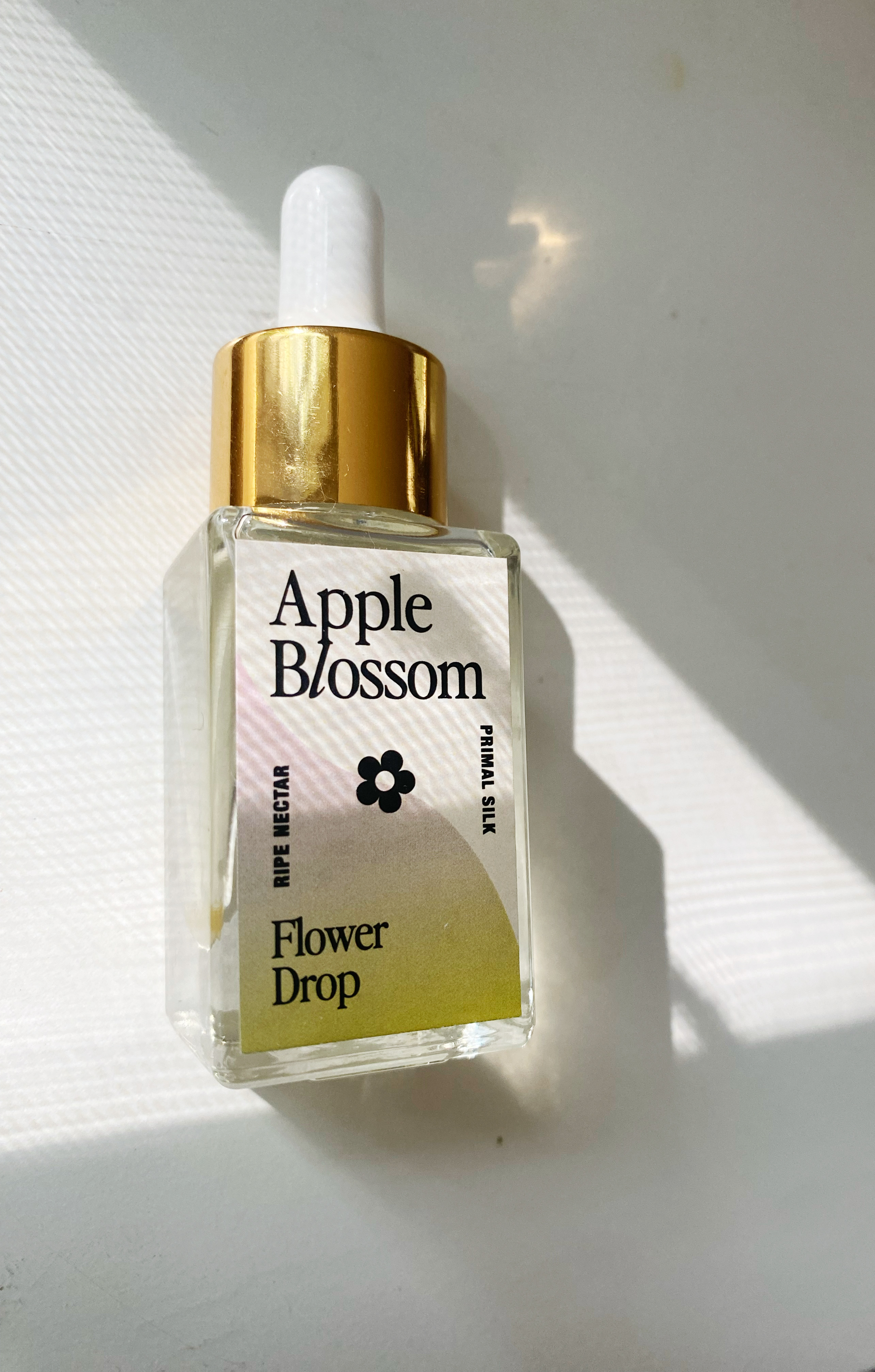 APPLE BLOSSOM
This is an apple flower. Refreshing. Soft. Tastes like an apple without the tartness. Ancient Eden energy yet Apple Blossom has something youthful, regenerative & purely playful about it. Harvested from a multi-generational, familial apple tree. Lovely in Summer drinks!
Ingredients
Organic flax glycerin, fresh apple blossoms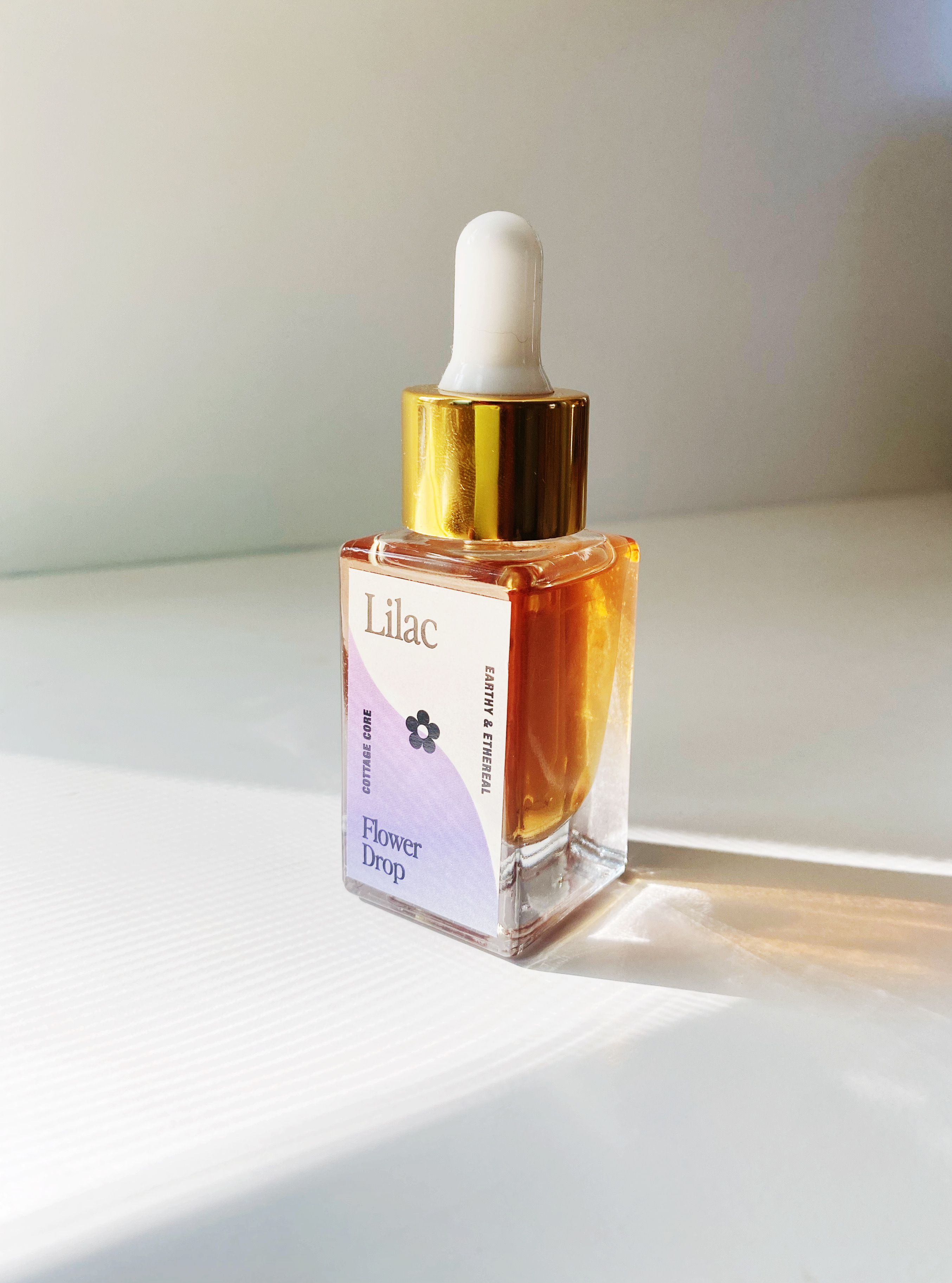 LILAC
Set the table. Put out the plates. Bring
Lilac Flower Drop
to the center. Garden party approved. Picnic basket essential. A timeless herbal bouquet! Floral & calming. Bossy in a soft way. Multigenerational. Maternal. Mature. Lovely in skincare for its warming & astringent properties.
Ingredients
Organic flax glycerin,
fresh lilac petals


JASMINE
From morning to midnight, envelop yourself in this rich, animalistic Flower Drop. During the day, this is lovely in green tea
&/or
boba. Use in the night as a nocturnal perfume. As a vine, Jasmine envelops what it grows around. Similarly, the sense & the taste can be all encompassing, transportive & comforting. Primal floral vibes.
Ingredients
Organic flax glycerin,
fresh jasmine blossoms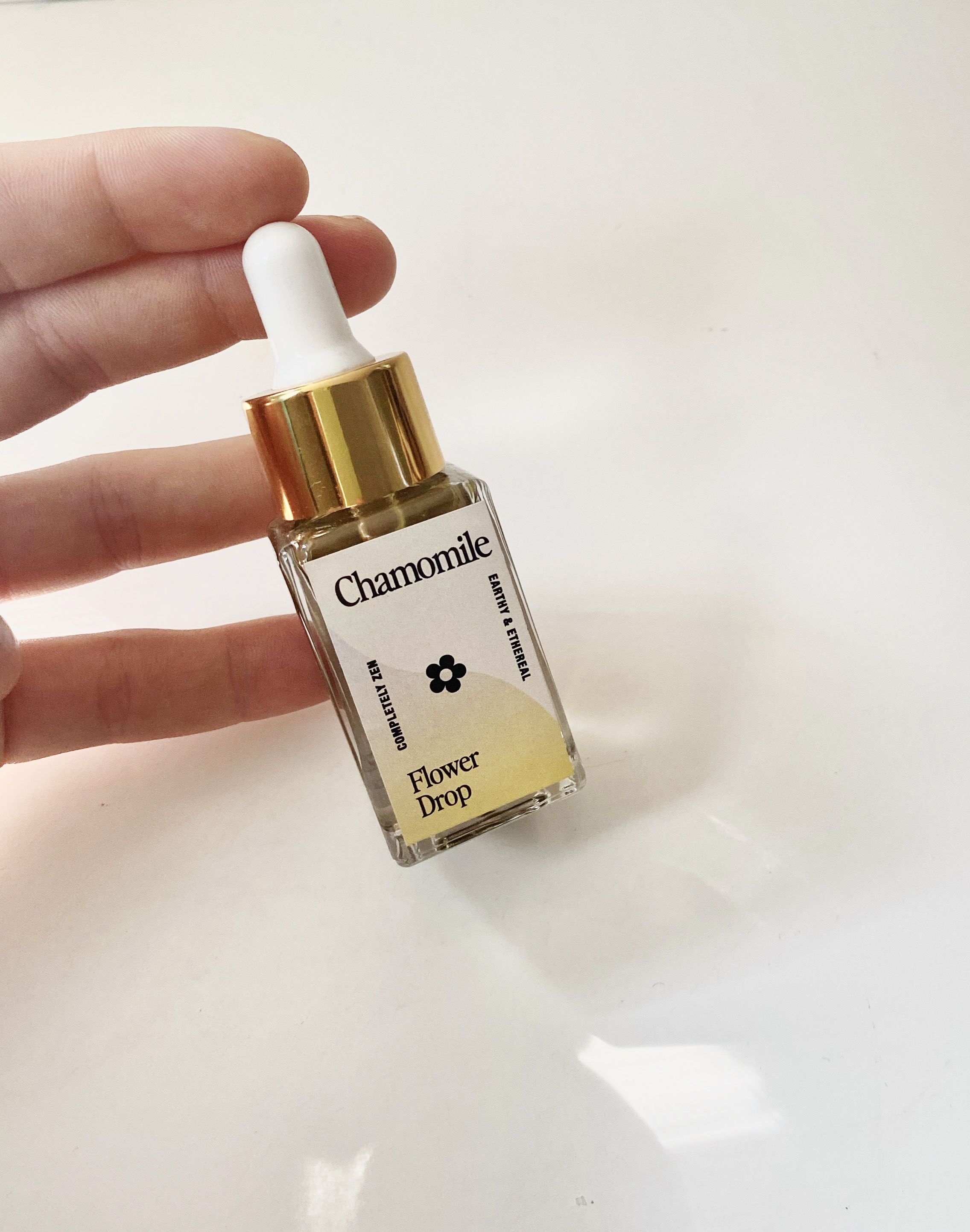 CHAMOMILE
Fresh chamomile is on another level. If you're a drinking chamomile type (
dried in a tea
) this is a brighter, honey-
er
, version. Calming, complex & safe for all. A must for teething babies. (Drop directly into mouth or on finger & apply.) A must for fussy toddlers & stressy adults, too. Perfect for pre-wedding nerves & any other scenario you need complete zen & sweet bliss!
Ingredients
Organic flax glycerin,fresh chamomile flowers
ROSE
Fresh rose petals.
Moistening, cooling & sublime. An aromatic haiku.
A humectant, rose petals adds and retains moisture in our tissues. We love
Rose Flower Drop
for all skin types & it is especially lovely for sensitive & maturing skin. Supportive during times of grief & heartache,
Rose
shows us the balance between strong boundaries & an open heart.
Ingredients
Organic flax glycerin,
fresh rose petals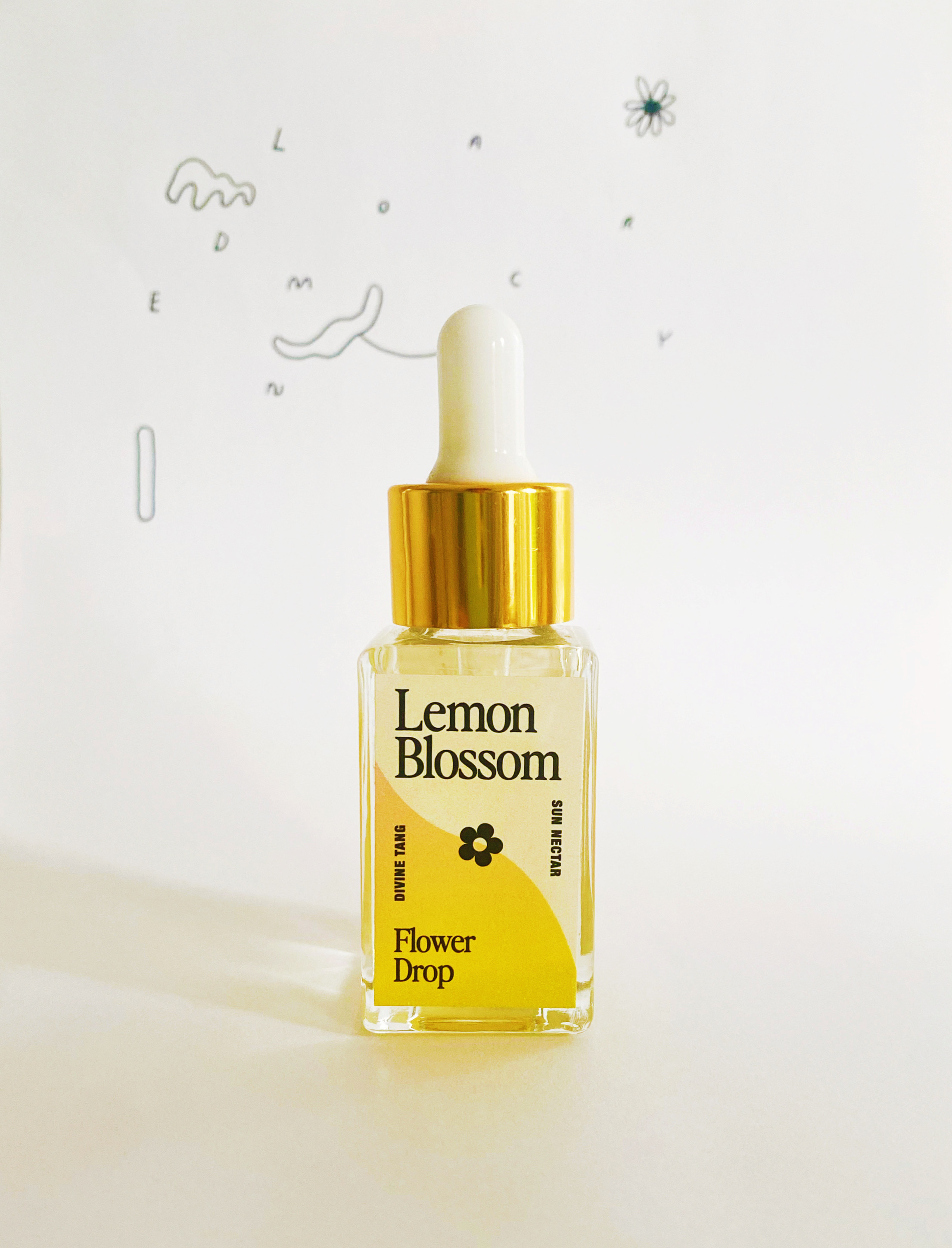 LEMON BLOSSOM
Light, bright and instantly joy-inspiring, we are essentially calling it sun nectar in a bottle. Drop this bright beauty directly on your tongue, sparkling water
or
add a drop to your skincare ritual for its softening & regenerative properties. Lemon Blossom tastes warm & eager, a divine tang & sweet way to uplift & focus.
Ingredients
Organic flax glycerin, fresh lemon blossoms
YARROW
Yar-row it is. Imbibe often.
With the striking duality of bitter & sweet, any curious palette will say yes to this well-rounded sensation. It's the unsung hero of our flower drops. Prepare thoughtful mocktails or cocktails with this one. A nourishing aid to your energetic boundaries. A blood, vessel and circulation powerhouse, find flow internally and externally through
Yarrow
. Supremely support your oral health by massaging into sore gums post-dental visit. Give it a drop! See what
Yarrow
is all about.
Ingredients
Organic flaxglycerin, fresh yarrow flowers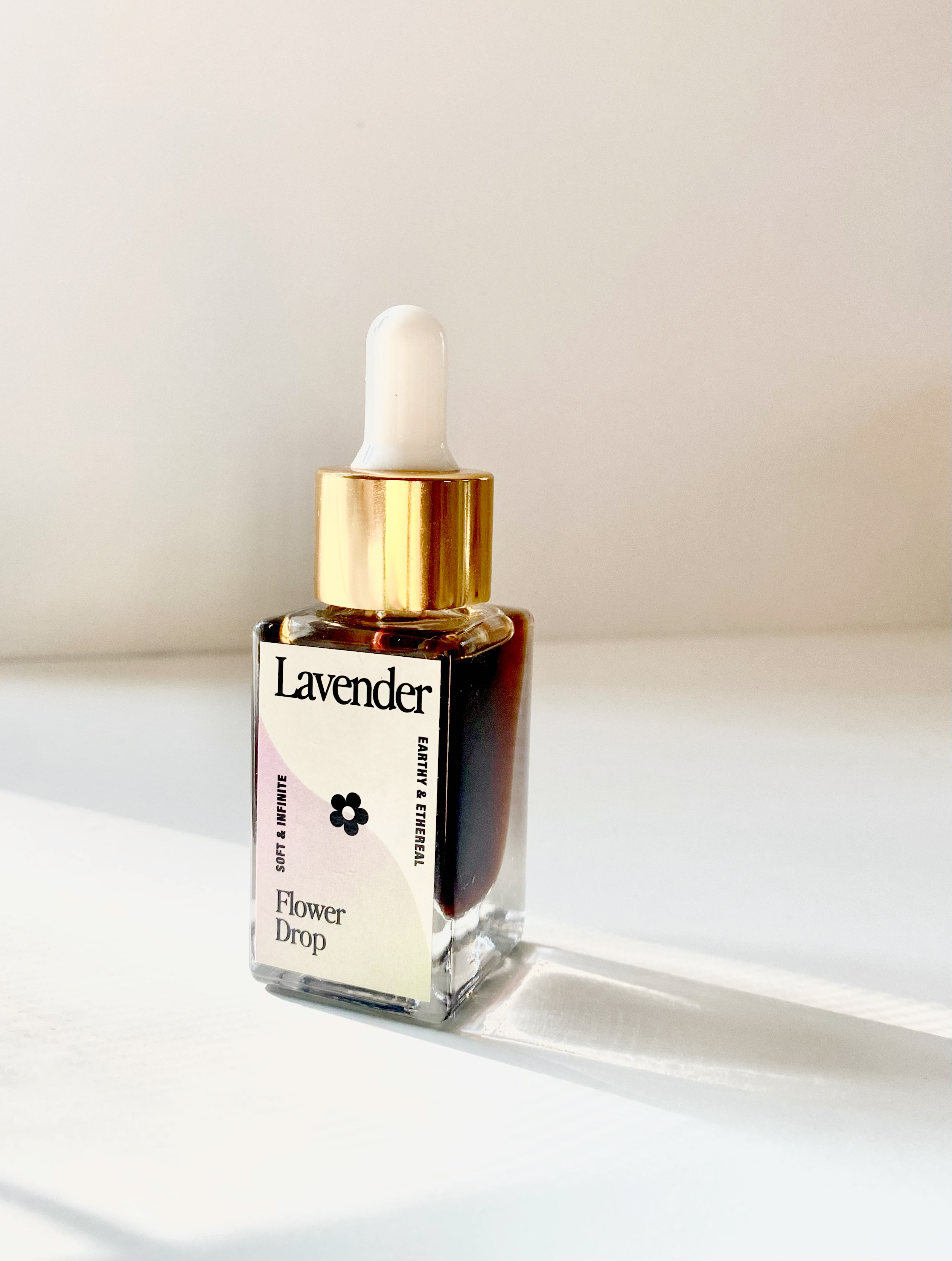 LAVENDER
Soft & infinite. Earthy & ethereal.
Lavender Flower Drop
adjusts the mood by uplifting the spirit & grounding the nerves. It's
moment medicine
. Lavender will help slow you down, aligning you to a sustainable pace. A few dropperfuls transforms your morning bev into an instant lavender latte. During PM, try weaving this into your wind down ritual and sleep routine. It feels especially designed for artists, elementary school teachers and the like.
Ingredients
Organic flax glycerin, fresh lavender flowers
Broth Broth, Baby

Antiviral Herbs & Healing Foods
to Support an Infant Recovering from COVID

︎︎︎ Allie who stepped into foster motherhood (also known as motherhood) earlier this year, offers tips she has layered into nourishing her now 10-month-old daughter (referred to as bambina here).

We can do lots to strengthen immunity, ease cough & chest congestion & soothe their tiny nervous systems as they recover from compromised immune systems. We can do this:

Broth, broth, baby
Add broth to everything. Especially while she is sick, I turn to broth to cook this bamina's gnocchi, use it to purée her sweet potatoes or love it as the water portion in oatmeal. Savory style. I use a crock pot & grass-fed beef bones, leftover plant parts from my freezer & herbs like mineral-rich Nettle (Urtica dioica) & Thyme. Thyme (Thymus vulgaris) is an approachable, antiviral herb. It's also immuno-modulating, anti-inflammatory, & antioxidant, too. (1) For an absolutely wonderful listen, tune into a podcast on Medicinal Broth by The Herbal Highway if you're ready to up your broth game with the wisdom of Renée Camila.

Hydration, the antiviral way
Try this easy Viral Shaker Tea, a yummy blend of herbs to strengthen immunity. With several tbsps of Wild Cherry Bark (Prunus serotina) & a half gallon of distilled water, I put this on the stove to simmer for 2 hours in order to really draw the medicine out of the Wild Cherry Bark. Then I bring it down to a gentle simmer & add the lighter herbs: 1 tbsp of antiviral Lemon Balm (Melissa offic) + 1 tbsp of Nettle. Once this big batch of tea cools, I use this as 1 part of her formula feeding. So if in her bottle is 3 scoops formula for 6 ounces of water, I exchange 3 ounces of that water with the Viral Shaker Tea. Keep the same amount of formula scoops. If breastfeeding, drink directly from a bottle or mix with breast milk if you have a frozen supply.

Pears!
At the Sowa Market last Sunday, Kathy from Sol Gardens Flower Farm in Concord, Massachusetts gifted us a handful of Asian pears. Monday I was blanching & pureeing them (skins & all). Pears (Pyrus pyrifolia) have an affinity for the lungs, something my first herbal teacher, Kara Sigler taught me. How? They add moisture to the lungs & decongest the pathways. (2)

Keep it Simple
Chamomile Flower Drop

is an ally for this bambina as she teethes. Four full teeth & two more coming down! It's also been calming for her. And for me. While widely used for digestive uses in children & adults alike, Chamomile (Matricaria chamomilla), is also an antiviral. (3) Additionally, since rest is paramount in any sick symptom-picture, choosing to dose Chamomile throughout the day either with the Flower Drop, in tea form (plain in a baby bottle) or mixed with formula similar to Viral Shaker Tea is a simple idea for all. A settled nervous system supports a bolstered immune system. Everything is connected.

Cinnamon
I have these lovely cinnamon sticks that I add directly to her morning oatmeal. Sweet style! Cinnamon (Cinnamomum verum), is very warming. It's important to energetically keep the body warm during periods of recovery. (BTW this picture was taken several months ago!) Cinnamon works well here. Cinnamon sticks in particular because the flavor comes from the steam of the bark (keep the lid on !) instead of cinnamon powder which, in my opinion, tends to add a dry nature to any meal. You may enjoy reading about how Cinnamon constituents may inhibit virus proliferation too. (4).


-

Terminology
Antiviral - herbs that bolster the immune system

(A Few) Antiviral Herbs
that are safe for infants:
Lemon Balm, Chamomile, Thyme, Cinnamon

Takeaways

Food is medicine

We are not powerless as caregivers to babies with viruses

Think: energetics, calming nerves, antivirals through food

Dial in your own self-care so you will sustain the marathon of caring for others


Sources
(1) Thyme Vulgaris, a natural pharmacy against COVID 19: a molecular review
(2) Eating for Healing: Pears Three Ways
(3) Antiviral Activity of Chamomile
(4) Cinnamon and its Possible Impact on COVID-19

More?
If you're seeking support to source herbs or other forms of allies as you support a little being, you're welcome to reach out. Email Allie (allie@tryearthallies.com) with subject line Broth Broth, Baby!

Take good care!